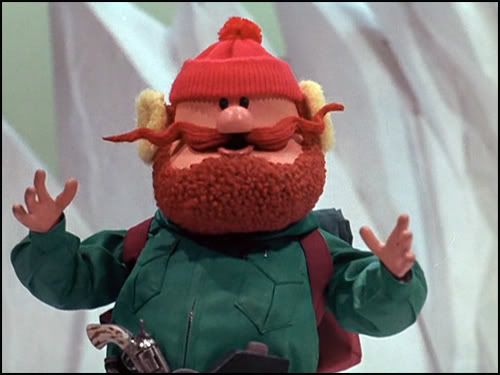 To quote Yukon Cornelius, a character in the Christmas classic, Rudolph the Red-nosed Reindeer, "It's not fit for man nor beast out..."
A huge winter storm hit the Bay Area.
The rain was pummeling the streets and lashing at the windows; rendering it nearly impossible to contemplate doing anything more adventurous than staying at home with an old movie and a cup of hot cocoa. Although, I can't seem to watch television these days without falling asleep exactly 53 seconds after my head hits el hubby's lap - my preferred mode for viewing ye olde boob tube which has become the de facto modern day hearth. It is not quite as a romantic as being mesmerized by the flame of a yule log while drinking hot toddies (or whatever it is folks used to do before electronic devices usurped the fire's throne), but I have a comfy old red cashmere throw el hubby (being the good fatherly hubby he is) makes sure is wrapped around my body so that I am swathed like that child in the manger of lore - snuggled up cozily, ready for Morpheus to do his stuff and lead me to the land of nod.
Of course, this is not the White Christmas-ed December that Bing Crosby sang so wistfully about in his films and television specials. This is a grey-faced wolf howling in the wind, warning San Franciscans to stay indoors whilst he's on the prowl. Although outdoor excursions are rendered virtually impossible by it, this weather does lend itself to other activities of a stay-close-to-home nature -- braising.

Braising, you say? Please lower the eyebrow and hear me out. Nothing says comfort more than a bowl of something savory and steamy when the weather is raw. Remember your Brillat-Savarin: "The pleasure of the table belongs to all ages, to all conditions, to all countries, and to all areas; it mingles with all other pleasures, and remains at last to console us for their departure." That master of the gastronomic knew of what he spoke. Nothing immediately relieves our sense of deprivation as the bite of something delectable. I mean look at what a bit of apple did for Eve, granted she and her poor clueless spouse Adam were booted from heaven for it afterward, but that first flood of pleasure tasted as the juice of that fruit spread over her tongue must have been exquisite. Allow me to properly define braising. Too many people confuse it with stewing:
Braise -
to cook (meat, fish, or vegetables) by sauteeing in fat and then simmering slowly in very little liquid
Etymology:
-
v.
1797,
from
French
braiser
"to
stew"
(17c.),
from
braise
"live
coals,"
from
Old
French
brese
"embers"
(12c.),
ultimately
from
West
Germanic
*brasa
(as
is
Italian
bragia
,

Spanish
brasa
),

from

PIE
*bhre-
"burn,
heat"
.

Related:
Braised
;
braising
.
Braising it yourself helps fill the home with wonderful aromas and gives you something to do that exerts little effort for lots of reward. It's a great way to clean out the pantry and the fridge, too; something that my small rental definitely requires on a periodic basis.
This recipe only needs one pot, which makes clean-up a cinch. The pot, however, should be a good heavy braiser or dutch oven. Le Creuset is the best, accept no substitutes (unless you have no choice, of course. I mean, people who own All-Clad need to eat, too.). Now, typically, one would take a tough cut of gelatinous meat such as beef chuck roast or short ribs and braise it until it is plush and tender. Toughness in meat works to your advantage during braising. Collagen, a key connective tissue that makes tough meat tough, converts to gelatin when cooked slowly in water, which softens the surrounding muscle.

However, it is the holiday season, and taking a little respite from all the rich, gooey, rib-sticking dishes that we ply ourselves with during these alcohol-fueled, diabetes-inducing celebrations is welcome relief. You will sacrifice neither health, nor flavor here - just calories. We will turn to the Japanese for our inspiration. My husband and I spent many a Christmas holiday on the Big Island of Hawaii at a resort called Hualalai on the Kona Coast, and there was where I first encountered f

ish "Nitsuke", or braising fish, one of the very common Japanese rustic dishes.

Nitsuke is a Japanese word that means "to boil with spices and add flavor." Hawaii has incorporated the cultural influences of many of its nearest Asian neighbors (who quite frankly are not very near, truth be told, but have managed to find their way there over miles of Pacific ocean), and the Japanese has certainly exerted a powerful influence over local cuisine.
Ahhh.... Hawaii.
There are few places in the world like it.
The perfume of the plumeria is everywhere.
The spirit of Aloha permeates everything and everyone in it. You can just feel the tension drain out of your body as soon as your foot hits the tarmac and that first waft of warm fragrant air greets you.
Alo means to share in the present moment. Oha is joy. Ha is life energy. Therefore Aloha translates to meaning "The joyful sharing of life energy in the present" or "joyfully sharing life." Viewed another way, Aloha means living in harmony. Remember Hawaii is known as the Aloha state, and its multi-ethnic population attests to its living up to its name.
Hawaii seems to be suspended in some time/space warp: you co-exist with the rest of the known universe but nothing in it can affect you. Senate hearings, stock plunges, ebola scares.
None of it matters.
Not here. It is heaven. Everything is beautiful, everyone is happy. Everyone who works at the resort stops no matter where they are or what they're doing to watch the sun sink into the sea every night. Hoping to catch a glimpse of that elusive 'green flash'. (
Green flashes
and
green rays
are
optical refraction phenomena
that sometimes occur right after sunset or right before sunrise at the horizon. When the conditions are right, a green spot is visible above the upper rim of the disk of the
sun
. The appearance of green usually lasts for no more than a second or two.)
A favorite expression among the locals, the rare time you may experience a mauvais moment, is "It's all good!" Always said not as a rebuke but just as a gentle reminder of your good fortune to be experiencing such an earthly paradise... and how right they are.
How I wish I was on the Big Island today.
But Hawaii is not just a pretty place on the map; it's also a state of mind, and since
the weather system
we San Franciscans are braving this week comes courtesy of Hawaii
- a s
ystem fueled by the "Pineapple Express"
(
meteorologists describe the Pineapple Express as a long, narrow plume that pipes moisture from the tropics into the western United States that
delivers a steady stream of moisture directly from Hawaii to the West Coast)
,
I offer you my adaptation of a wonderful entree so that you, too, could share a taste of paradise when the weather outside is frightful, and you've got nowhere else to go, so let it braise, let it braise, let it braise...
Mahalo for reading, my friends.
Mahalo
– expresses gratitude and is used to say thank you. It is as important as Aloha in the Hawaiian language and conveys much sacred and spiritual meaning. The root words are Ma which means in, ha which is breath or life energy and alo which is in the presence of. Mahalo means "In the presence of the Divine".

Just close your eyes... can you hear the song of the ocean?
Fish "Nitsuke"with Shitake Mushroom and Fennel Broth
A quick note, the ling cod just happened to be the freshest fish in the market today. Use any firm fleshed white fish like white bass, mahimahi, red snapper, sole or halibut; even salmon would work well. For those of you opposed to eating all things piscine, thick slices of tofu is lovely. Braising imparts a silken texture to tofu that other methods of cooking do not, it also allows it to fully absorb the flavors of the broth.
You can braise firm, fibrous fruits and vegetables, too. Vegetables and fruits that braise well include onions, parsnips, yams, sweet potatoes, pumpkin, fennel, carrots, beets, pears and apples.
Unlike most, t
his is a really fast braise to make, but it is just as hearty and satisfying as the more traditional braises. I'll be including other types of braising in future articles because tis the season to be braising, tra la la la la, la la la la.
Ingredients:
1 lb. of 1-1/2 " thick ling cod fillets (about 2 large fillets, cut in half), seasoned with a small amount of salt & pepper on both sides

2-3 Tablespoons cooking oil(either peanut or extra virgin olive oil).

1 small fennel bulb, sliced

1 large shallot, sliced

1 tsp of red chile flakes (optional)

3 slices of fresh ginger root, finely minced

1 large or 2 small cloves of garlic, finely minced

1/4 lb. fresh shitake mushrooms, sliced

1 bunch of broccolini or bok choy, cut into bite sized pieces

1/4 cup dry white wine

1/2 cup high quality, low sodium chicken or vegetable broth (Wolfgang Puck's brand is great)

2 Tablespoons of reduced sodium soy sauce

sea salt (I use Pink Himalayan) and fresh cracked pepper to taste

1 small bunch scallions, chopped

half a handful of fresh cilantro leaves, minced

1 lime, cut into quarters

Toasted sesame oil, to taste

Directions:
Heat a large braiser or dutch oven over medium heat.
Add 1 Tbs. cooking oil, red pepper flakes and a tiny pinch of salt. Add the fennel, cook until softened slightly.
Add shallots and ginger. Saute' for two minutes; then add shiitakes and the remainder of the olive oil along with another pinch of salt and some fresh black pepper.
After shiitakes have softened, add the garlic, making sure the incorporate it into the stir fry.
When garlic is softened, deglaze the pan with the wine; stirring well to get up all the vegetable bits at the bottom of the pan.
Add the broccolini, stirring in well to coat with the aromatics. Then add 1 tablespoon of the soy sauce, stirring until evenly absorbed.
Add the stock, stirring it in. Lower heat to a bare simmer. Then carefully place each fillet over the vegetables just above the level of the broth.
Drizzle the remaining soy sauce evenly over the fillets. Sprinkle half the cilantro and half of the lime juice over the fish.
Cover tightly with lid and allow the fillets to poach for 7 minutes. Check for doneness, fillets are done when center is almost opaque (there should still be some sign of translucency at the very center) and edges are slightly flaking. Do not over cook. Remove from heat. Season with sesame oil to taste. Remember to be sparing with the sesame oil, it's strongly flavored and could easily overwhelm the dish.
Place the fillets in warm bowls. Ladle the broth and veggies over the fish, and sprinkle remaining lime and cilantro over each dish. You can also serve it over jasmine rice or buckwheat soba noodles by placing them in the bottom of the bowl then adding the fish and broth.

Serves 2 hungry people as a soup or 4 people if you ladle it atop rice or noodles.