Ah November... with its golden daylight hours, short though they are and that Harvest Moon. I saw it last evening when I treated myself to a sidewalk cafe dinner at Luella's - a wonderful little neighborhood joint.
That moon hung heavily in the night sky, opalescent like a glimmering stone pendant dangling from the neck of a beautiful Nubian woman.
I sat under the canopy of a tree, the night lit only by one lone candle on an outdoor table at the sidewalk cafe beneath the starry sky. The air was balmy, redolent with Asian spices & the faint scent of motor oil from the passing cars. A trolley had just clanged past me ringing its bells, carrying its burden of clueless tourists aimlessly snapping their cameras at random sights and meaningless landmarks.
Yet the night was so glorious and I felt so fortunate to be alone with my thoughts, I became filled with a yeasty benevolence toward all of mankind - even godforsaken tourists.
I raised my flute of sparkling rose' to them as they passed, clicking away.
I then realized that Thanksgiving was just around the corner and that it was time for me to post that Vegan blog I had promised my friend Mia ages ago.
Thanksgiving Dinner is a good place to start.
It's a tough time to be a turkey, though: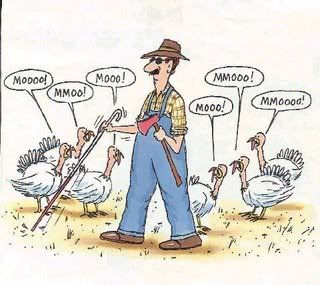 Unless, of course, you're a turkey with Vegan friends. Then you have no worries!
Veganism
is a diet and lifestyle that eschews the use of animals for food, clothing, or any other purpose.
Vegans do not eat any animal products.
None.
Not butter, not cheese, hell... not much chocolate.
Life without ice cream???
So it makes you imagine they may not be the happiest people on the planet.
How could they be?
However, my pal Mia is the nicest sweetest most upbeat person I know.
Guess what?
She's a vegan.
When I promised myself I would make a Thanksgiving Menu for Vegans I must say I was worried... but I love a challenge! And, believe me, creating a Thanksgiving meal without butter, or cheese or cream, not to mention the main attraction: The Turkey, is challenging. I have often concocted & served side dishes for vegetarian friends during holiday celebrations making delicious stuffings, lasagnes, and other casseroles with featured chestnuts, pumpkin and squash, but they all used butter and cheese. A celebratory meal without dairy? Seemed so unreasonable!
Well... I was astounded at all the options to the dedicated homecook once you got out of the old mindset of needing dairy & meat to make food palatable. What I absolutely did not want to do was use so-called meat substitutes. They are rank, awful mealy things with little flavor, tons of chemicals , and besides, isn't the point of veganism (& vegetarianism) to get away from the killing animal cultures? Well, then? Why would you eat pretend meat? I should think the idea of any meat would be repugnant. Therefore I was determined to use fruits, nuts, vegetables & grains only. To recreate a cornucopia of autumn harvest goodness.
I turned to Asian, Middle Eastern, Indian & yes, even, Latino food for delicious dairy & meat-free options, I really had to edit myself (nearly impossible for me ) to keep this blog from turning into a Vegan cookbook.
I am offering only a few items that I think will make for an elegant, festive Thanksgiving. For those of you who are not vegan but have vegan guests over for the holiday, any of these dishes will work beautifully for them. I would offer the butternut casserole & the wild rice-stuffed acorn squash as mains dishes for them and try preparing either the salad, the green beans or the brussel sprouts for everyone, so that your vegan guest can enjoy a side, too.
Thanksgiving is about being grateful for the lives we have and the relative bounty that our country does offer us. There are many in the world who are not gifted with our freedoms or our good fortune to live in a land where you can actually contemplate & plan what you're going to make for dinner.
Let's not forget that!
Creamy Chestnut Soup with Porcini Mushrooms
Sweet Potato, Pomegranate, and Walnut Salad
Harvest Stuffed Acorn Squash
Butternut Squash and Macaroni Casserole
Green Beans with Shallots and Almonds
Roasted Brussel Sprouts Ssam Bar-style
Buen Provecho!!!
Roasted Brussel Sprouts Ssam Bar-style
Deep fried brussel sprouts are a popular dish at Ssam Bar in Manhattan. They will be roasted in a hot oven instead of fried. Too messy. It will still give them that nutty sweetness & caramelized exterior.
It's a great dish with Asian flair & I would pair it along with the rest of this Thanksgiving extravaganza with any Alsatian Riesling or Gewurtraminer you like as long as it isn't a VT (Vendage Tardive).
Those are really costly & dessert-like. Such unctuous honeyed viscous nectar is best appreciated on its own.
For the sprouts
2 lbs. brussel sprouts, trimmed & halved lengthwise
3 Tablespoons canola oil (Do not use olive oil. It has too low a flash point and will turn acrid & bitter in high heat)
2 Tablespoons unsalted butter or butter substitute
For the dressing
1/4 cup Asian fish sauce (preferably Tiparos brand)

1/4 cup water

1/4 cup sugar

3 tablespoons finely chopped mint

2 tablespoons finely chopped cilantro stems

1 garlic clove, minced

1 (1 1/2-inch) fresh red Thai chile, thinly sliced crosswise, including seeds

For puffed rice
1/2 cup crisp rice cereal such as Rice Krispies

1/4 teaspoon canola oil

1/4 teaspoon shichimi togarashi (Japanese seven-spice blend)

Garnish: cilantro sprigs; torn mint leaves; chopped scallions
Roast brussels sprouts:
Preheat oven to 450°F with rack in upper third.

Toss Brussels sprouts with oil, then arrange, cut sides down, in a 17- by 12-inch shallow baking pan. Roast, without turning, until outer leaves are tender and very dark brown, 40 to 45 minutes. Add butter and toss to coat.

Make dressing:
Stir together all dressing ingredients until sugar has dissolved.

Make puffed rice while sprouts roast:
Cook cereal, oil, and shichimi togarashi in a small skillet over medium heat, shaking skillet and stirring, until rice is coated and begins to turn golden, about 3 minutes. Transfer to a bowl and cool, stirring occasionally.

Finish dish:
Put Brussels sprouts in a serving bowl, then toss with just enough dressing to coat. Sprinkle with puffed rice and serve remaining dressing on the side.

Cooks' notes:

·Puffed rice can be made 3 days ahead and kept in an airtight container at room temperature.
·Dressing, without mint and cilantro, can be made 1 day ahead and chilled, covered. Bring to room temperature and add herbs before using.
·Brussels sprouts can be roasted 4 hours ahead. Chill, uncovered, until cool, then cover. Reheat, uncovered, in a 350°F oven until hot, 10 to 15 minutes.



Creamy Chestnut Soup with Porcini Mushrooms
Creamy without the cream, this beautiful luxurious dish is what the holiday feast is all about. Garnish it with one roasted chestnut, a few slices of the mushroom & a drizzle of your best olive oil & no one can say vegans don't really enjoy food.
1/3 cup dried porcinis (you can sub shitakes, if you like)
2 cups hot water
1 medium carrot, diced
1 stalk of celery, diced
1 small parsnip, diced
2 large shallots, finely chopped
1 bouquet garni (1 sprig each bay leaf, thyme & parsley tied together in a bundle with cheesecloth or else just bind them together)
2 tablespoons extra-virgin olive oil
3 cups of vegetable stock (look for a high quality one like Wolfgang Puck's)
1-1/4 lb. of coarsely chopped peeled roasted fresh chestnuts or 12 ounces jarred or vacuumed packed
2 tablespoons dry sherry
a few caramelized onions or shallots (optional)
Combine porcinis and 2 cups of water in a medium bowl. Let stand until porcinis soften about 15 minutes.
In a medium sauce pan, heat olive oil and add carrots, celery, parsnips and shallots. Saute until tender & then add the bouquet garni and stock.
Using slotted spoon, transfer porcinis into sauce pan. Add the porcini liquid to the pan, too, but be careful to strain it well, avoiding getting any of the sediment from the mushrooms into the pan.
Add chestnuts & season with salt and pepper.
Bring to a boil, reduce heat to low and simmer for 20 minutes, stirring occasionally.
Working in batches, puree soup in a blender until smooth then return it to the sauce pan. If you have an immersion blender like I do you can blend the soup right in the sauce pan instead of transferring it to a blender. They are really handy tools and cost relatively little. Just be sure to get the cordless variety. Much more convenient to work with.
Bring the soup back to a simmer after thoroughly blending then adjust seasonings to taste.
Garnish with a drizzle of oil , a chestnut or some leftover porcinis & the caramelized onions.
Can be prepared a day in advance. Just don't garnish it until you are ready to serve.
Harvest Stuffed Acorn Squash
Serves 6
Consider this side dish the picture of autumn's bounty. Cranberries, apples, walnuts and sage flavor a
delicious stuffing you eat while scooping out spoonfuls of sweet, tender acorn squash.


Ingredients
1/2 cup chopped yellow onion
2 cloves of garlic, minced
1 tablespoon extra virgin olive oil or sunflower oil
2 cups cooked rice, barley or quinoa
2/3 cup dried cranberries, soaked in hot water and drained
2/3 cup chopped sweet potato or carrot, steamed until just tender
1/2 cup grated peeled apple
1/2 cup walnut pieces
2 tablespoons chopped parsley
1 teaspoon dried sage
Sea salt, to taste
Ground pepper, to taste
3 acorn squash
1 cup vegetable stock
2 tablespoons extra virgin olive oil
Directions
In a small pan, sauté onion and garlic in oil over medium heat until sof
t but not browned. Place in a large
bowl and add rice, cranberries, sweet potato, apple, walnuts, parsley, and sage. Season with salt and pepper
and set aside.
Preheat oven to 375°F. Slice acorn squashes in half, and scrape out seeds and strings. Place face down in
large casserole or roasting pan and fill with 1/2 inch of vegetable stock, and bake for 15 to 20 minutes.Remove, reserve any remaining stock, and place face side up in pan. Fill each cavity with about 1/2 to 2/3
cup stuffing. Drizzle with olive oil and any remaining stock, and cover tightly with foil. Bake until
squashes are cooked and slightly soft to the touch, about 30 minutes. Remove the foil for the last 5 minutes
of baking.
Green Beans with Shallots and Almonds
Serves 6 to 8
Serve these green beans on a large platter with lemon wedges on the side for squeezing over the top. They make a great side dish for all holiday meals

Ingredients
Salt and pepper to taste
1 pound fresh or frozen green beans, trimmed
2 tablespoons extra virgin olive oil
1/4 cup chopped shallots
2 tablespoons chopped parsley
1 tablespoon chopped oregano
2/3 cup blanched almond slivers, toasted
Directions
Bring a large pot of salted water to a boil. Add green beans and cook until just tender, 5 to 7 minutes.Drain and transfer to a large bowl.
Meanwhile, heat oil in a small pot over medium heat. Add shallots and cook, stirring occasionally, until
softened and light golden brown, 4 to 5 minutes. Add shallots to hot, drained green beans. Add parsley,oregano, salt and pepper and toss gently. Transfer to a serving platter, garnish with almonds and serve.
Yummy, warm, slightly sweet with the redolent aroma of coconut milk, the slight crunch
of the toasty nuts and devoid of all dairy. It makes a good harvest celebratory main course for those who will be skipping Tom the Turkey.
Serves 8
Coconut milk is the unexpected, rich and delicious ingredient in this creamy casserole main dish.
Substitute pecans for the walnuts, if desired.
Ingredients
2 tablespoons olive oil
1 large yellow onion, thinly sliced
1 butternut squash (about 2 pounds), peeled, seeded and cut into 1-inch pieces
1 (15-ounce) can coconut milk
Salt and pepper to taste
1 tablespoon chopped sage
¾ pound dried elbow macaroni
½ cup chopped toasted walnuts
½ cup bread crumbs
Preheat oven to 350°F. Lightly oil a 9- x 13-inch casserole dish; set aside.
Heat oil in a medium pot over medium heat. Add onions and cook, stirring often, until softened, 5 to 7
minutes. Add squash, coconut milk, salt and pepper and bring to a boil. Cover, reduce heat to medium low
and simmer until squash is tender, about 20 minutes. Stir in sage and simmer 1 minute more. (This part can be made ahead, up to 1 day in advance.)
Meanwhile, bring a large pot of salted water to a boil. Add macaroni and cook until tender but still firm,about 8 minutes. Rinse in cold water, drain well and transfer to a large bowl. Transfer squash mixture to
bowl with macaroni. Add walnuts, salt and pepper and toss to combine. Transfer to prepared dish and top
with bread crumbs. Bake until just golden brown and hot throughout, about 30 minutes.
Sweet Potato, Pomegranate, and Walnut Salad
A good starter, very elegant & colorful using the season's fruits and veggies & making your holiday table beautiful. If you don't feel like roasting the sweet potatoes , skip it and add avocado & orange supremes (slices of orange without the pith) instead,. It will keep the silky mouthfeel of the roasted sweet potatoes but be far less trouble.
Ingredients
4 1/2 to 5 cups 1/2-inch cubes peeled, seeded sweet potatoes (about 4 large ones)

2 tablespoons extra-virgin olive oil

1/4 cup brown sugar

1/2 tsp dried crushed red pepper

Coarse kosher salt

4 tablespoons orange juice

1 1/2 tablespoons walnut oil or other nut oil

3 teaspoons fresh lemon juice

8 cups lightly packed arugula, spinach, or green-leaf lettuce

1/2 cup walnuts, toasted, coarsely chopped

1/2 cup pomegranate seeds
DIRECTIONS
1. Preheat oven to 450°F. Toss potato, olive oil, brown sugar, and crushed red pepper on large rimmed baking sheet. Sprinkle with coarse salt. Roast 15 minutes. Using spatula, turn squash over. Roast until edges are browned and squash is tender, about 15 minutes longer. Sprinkle with coarse salt. DO AHEAD: Can be made 2 hours ahead. Let stand at room temperature.
2. Once sweet potatoes are finished baking, place walnuts on a lined cookie sheet and bake for about 5 minutes. Using a spatula, periodically stir the walnuts, so they do not burn. Remove when fragrant.
3. Whisk orange juice, walnut oil, and lemon juice in large shallow bowl. Season to taste with salt and pepper.
4. Add lettuce, walnuts, and pomegranate seeds; toss to coat. Season to taste with coarse salt and pepper. Spoon warm or room temperature sweet potatoes over salad. Toss lightly .
This pumpkin pie is from Karina Allrich, an excellent vegan food blogger.
I have not made it but her taste & skills are known to be impeccable.
The pic is hers, too.

I have two more secret ingredients that make this pie work. No wait. Three. Good tasting hemp milk is a must. The reason is the thickness and richness (and the good-for-you fat- EFA's, in fact). If you can't find hemp milk, coconut milk would be the next best option. Thin non-dairy milks like rice milk aren't gonna cut it.

Next up is tapioca starch. I prefer it to cornstarch for thickening gluten-free pie filling. There's not much in here, but it works hard to keep your custard together. Which brings me to the final magic ingredient.

Xanthan gum. I know xanthan gum sounds like a weird and scary ingredient but in this recipe it's worth it's weight in gold because it lends a silky smoothness to the custard. And it helps to bind it (akin to what egg whites do).

Preheat the oven to 350 degrees F. Lightly grease a 9-inch glass pie plate.

I made the pie in a food processor. It helps to thoroughly process the ingredients. If you don't have a food processor, a macho stand mixer will work.

In a food processor bowl add:
1 14 or 15-oz can pumpkin

1 1/2 cups plain hemp milk

2 teaspoons bourbon vanilla

2 tablespoons light olive oil

1 tablespoon Ener-G Egg Replacer

3/4 cup organic brown sugar

1/2 cup buckwheat flour

2 tablespoons tapioca starch/flour

2 teaspoons baking powder

1/4 teaspoon xanthan gum

1/2 teaspoon sea salt

1 teaspoon cinnamon or pie spice

1/2 teaspoon nutmeg

Cover and process until smooth and creamy. Stop and scrape the sides of the bowl, if necessary to incorporate all of the dry ingredients.

Pour into the prepared pie plate and smooth evenly. Bake in the center of a preheated oven for about an hour until done. The pie should be firm- but still give

a little

when lightly touched. The center should not be wet. It will fall a bit as it cools.

Cool the pie on a wire rack completely. Cover and chill in the refrigerator until serving.

Makes 8 slices.