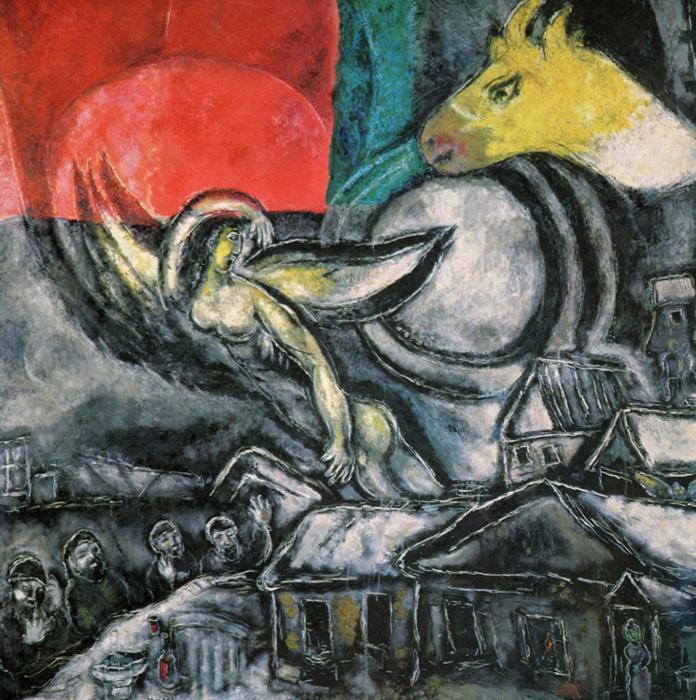 Well, even Marc Chagall commemorated Easter. So why shouldn't I?
Sure, I'm an atheistic ex-Catholic who left the church of Rome 32 years ago (& all other belief systems that involve omniscient, omnipotent invisible Cranks who get their rocks off by seeing how much havoc Their little jokes wreak).
But, I'm not going to let a little thing like THAT get in the way of a good meal.
Besides, I love all the rituals of the Church. Truly I do.
They coincide with the celebrations of the season's harvests many times.
Not by accident either. Good old Emperor Constantine was a wily old sonofabitch & knew that people would be willingly conquered so long as you didn't take away their good times and yummy meals & let them get jiggy with their badass selves every few months.
So even as he sought to consolidate his power & convert his entire empire to Catholicism, he figured he would absorb the culture of the pagans around him & morph into the Catholic religion which you have to admit has some F-U-N holidays!

Hence the Ecumenical Council called by the good Emperor to make Catholicism a bit more "user-friendly" for the besieged masses. Of course, the whole nailing a guy to the cross thing IS a bit morbid, but, hey... it's called role-modeling & leading by example. I mean, if the son of God is wiling to take one for the team, they figure that at some level you will, too. Catholicism definitely lays a heavy guilt trip on you.
Constantine, though, was a fair guy & probably owed some Jewish mafioso types beaucoup bucks, so he also decided that Easter should never be celebrated before Passover. In exchange for those props to Judaism, he also banned Jews from having Christian slaves. It was hell being a Christian back then, until the big C made it chic & all the cool kids like him were converting, too.
Some might say, "Give me liberty or give me Death!" like good old Patrick Henry, but these were earlier times & well... some cultures care more about what's for dinner. Pretty practical, they were, too. I mean Dead Men not only don't wear plaid, but they also don't get to eat white chocolate chai truffle, either or whatever the ancient yummy equivalent was back in the day... So, I would choose life, too.
Which brings me to Easter dinner...
I have zero time to write out my usual recipes.
The hubby who was away all week has demanded my attention this weekend & well, I hear & I obey (for the moment.. hahah)
I'm just going to post some pics with captions on it that I put in my albums here on MySpace called "Food Porn & Other Pleasures"
This really is easy to make & I may later refine the recipe but for now here goes:
Pesto-crusted Rack of Lamb with Truffled Smashed Potatoes, Green Bean & Wild Mushroom Saute
I don't have pictures of my mise en place because I didn't decide to "blog" about this meal until after I had placed the lamb in the oven. It suddenly dawned on me that it would be fun to share this simple, but elegant recipe with you guys. I mean ideally I would serve an asparagus sformato with this meal to start, but we really don't need the extra calories. I must share that recipe one day, too... It's a lovely ode to Spring.
The hubby was
NOT
uniformly pleased about that because he knew that once I started photographing the step by step process (especially while being ever so slightly imbibalicious), dinner wold take far longer to make than usual.. haha.
Poor man use to suffer terrible hunger pangs when I did my food blog full time. Now that I'm mostly Spazzing it these days, he will actually cook dinner some nights. He used to cook all our meals when we lived in NY. I got out of work so late back then (10:30pm most nights) that he would have dinner ready when I got home.
Rosemary Pesto for the lamb rack:
This pesto has rosemary which I stripped the leaves from & chopped before adding to the food processor, a couple of TBS toasted sesame seeds, a handful of parsley, a touch of honey, a smidge of fresh meyer lemon juice & pecorino. I add the olive oil in last while the food processor is whirring away. I add in a steady stream until I like the consistency of the pesto which I pictured here.
You can be more traditional, obviously, & just do pinenuts, basil & parmiggiano reggiano, & the streaming olive oil, but I decided to an homage to the Byzantine Empire with my pesto.

Ingredients for the smashed truffled potatoes:
I
like to boil the potatoes with the skin on & just cut them in half; unless they are very small new potatoes then I keep them whole.
Once the lamb is done & resting & I have finished the veggie saute: it's time to make the smashed potatoes. I put butter & half & half in a sauce pan to heat them well until the butter is melted.
I add the potatoes which I have strained by kept warm by keeping them covered with foil in a colander on the cooktop over a pot of hot water.
I let them soak for a minute in the heat of the butter & cream mixture which I also added truffled salt to, btw...
I smashed them with an old fashioned wire potato masher. I wanted a coarser chunkier texture. You can obviously use a food mill or potato ricer if you do not like the skin & want a more refined texture. I finish off the potatoes with more butter, truffle oil, fresh ground pepper & truffle salt that I stir in with a wooden spatula.
Now, folks, the rest of these instructions will simply not fit on one blog. MySpazz limits the amount of pics & text I can fit in here. I do not want to do two posts, so I will instead leave a link to my album where I have left instructions in the captions for you. They are on pages two & three of the album entitled "Food Porn & other Pleasures" .
I will end this blog with a little Ode to Spring that I wrote today whilst sitting on the recumbent bike for 75 minutes. Exercise always gets my creative juices flowing:
Flitting prettily from flower to flower
Both freed from Winter's guise...
Though I am but a human thing
Are Nature's Spring surprise.
HAPPY EASTER, EVERYONE!!!